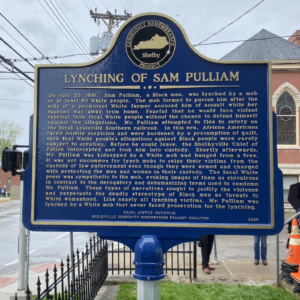 There are two versions of Sam Pulliam's last name, Pullim and Pulliam. For this biography, the last name "Pullim" will be used as that is what was recorded in the 1880 census. Sam was born sometime in 1864 to his mother, Mary Pullim, and his father, Dave Pullim. Sam had a brother named James who was three years older than him. In 1880, by the time James and Sam were 19 and 16, they were working on a farm along with their mother and father. Mary was a cook and Dave worked in the fields. The entire family was born and raised in Kentucky and in the 1880 census, the family lived at 30 Gilman's Pt Precinct, Jefferson, Kentucky, USA. No one in the family was able to read or write, so it can be assumed their lives revolved around work rather than school. Before Sam's tragic death, it seems as though he never married.
On July 21,1891 around 10 o'clock in the morning, Sam Pullim was hanged by a mob. Pullim was accused of assaulting the wife of the prominent farmer, Thomas Glenn, who was also his employer. Pullim had been working on Glenn's farm for sometime before this incident happened. It is said, Pullim brought Mrs. Thomas Glenn to a hemp field, choked her until "insensible," and proceeded to assault her whilst Mr. Glenn was out of town. He supposedly lured Mrs. Glenn to the hemp field by saying something was killing her chickens. The White newspapers painted Mrs. Glenn as a respectable woman of Shelby County, causing many to be outraged that Sam had "assaulted" her. A range of 60 to 100 men from Shelby County went after Pullim, but he was able to escape to Anderson County. However, he was arrested shortly after at Avenstoke Railroad Station along the Louisville Southern Railroad by Chief of Police Rutherford. While Police Chief Rutherford was transporting Pullim back to Shelbyville, a mob stopped them in their tracks, forcing the Chief to hand him over. The mob captured Pullim and hanged him in a nearby tree.
This punishment was not enough for the citizens of Shelby County. A few days after the lynching, a mob went to Mary and Dave Pullim's home. The mob threatened the elderly couple to leave the county within five days or else they, too, would be hanged for their son's crime. Dave, aged 65, left immediately and walked 25 miles in the direction of Louisville but collapsed from exhaustion. Mary left with her other son on a train. An African American newspaper stated that the family had disowned their "wayward son and in no way held up his actions." It is unclear if the family had actually disowned Sam, or if they were trying to save themselves from any more threats. Most of the newspapers described Pullim as a "negro brute," "ravisher," and "a burly negro." These newspapers fed into the criminalization and characterization of this man, possibly to condone the actions of the mob.